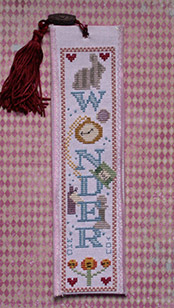 I know it's been awhile since I released a new freebie here at Stitching the Night Away, but I promise I have some being worked on right now that will be released soon.
In the meantime I'd like to share with you this amazing bookmark freebie from Ship's Manor that was recently released, called Wonder.
Grab your favorite Lewis Carroll book
and get stitching
Happy Stitching!


Ship's Manor also has some newly released Halloween cross stitch patterns that are fantastic!