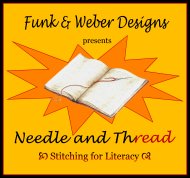 I love this stitching for literacy program and I'm so glad to see it going again! The mail in and drop off dates for stitched bookmarks are March 17 – April 28, so still plenty of time to stitch a bookmark or two and send it in to participate, or drop some off at a participating needlework shop if there is one near you.
How to Participate in the Program:
It's easy just stitch a bookmark and send it in. After the bookmarks are collected they will be donated to a library or school during Children's Book Week to reward reading accomplishments.
Need some bookmark patterns to stitch up? These designers donate to literacy projects at least 10% of profits from specially-designed bookmark patterns bearing a Needle and Thread: Stitching for Literacy logo. When you purchase these patterns, you, too, are supporting literacy… (just click on the images to pick up the chart)