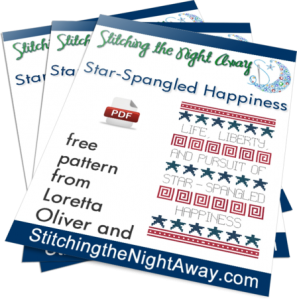 Just a quick little freebie to stitch up over the Independence Day holiday this weekend.
Unfortunately, the weather forecast here in my part of the U.S. looks hot, humid, and rainy
– good weather for staying in to stitch, but not so great for taking the kids out to see fireworks, cooking on the grill, and other fun stuff.
Hopefully your weather is a little nicer. East coast folks, please stay safe, it looks like we'll have our first storm of the summer this week.

Click here to download and save the pattern PDF file
Pattern Size: 70w X 117h ~ I did include a legend for the colors in the chart, but as always you can pull threads from your stash and get creative ~ I look forward to see everyone's finished stitches. You can send me an email, post a reply here, or share your pictures on the Facebook page.
[Read more…]